All Your Research
& Results in Your Own Hands™
Resultal offers online questionnaires, tests and experiments for PC, tablet and smartphone for research on every location. And that for € 5,50. Start now and set up your study in minutes.
Why only € 5,50? Read about our Mission.
Resultal is a service of WorldBrainWave.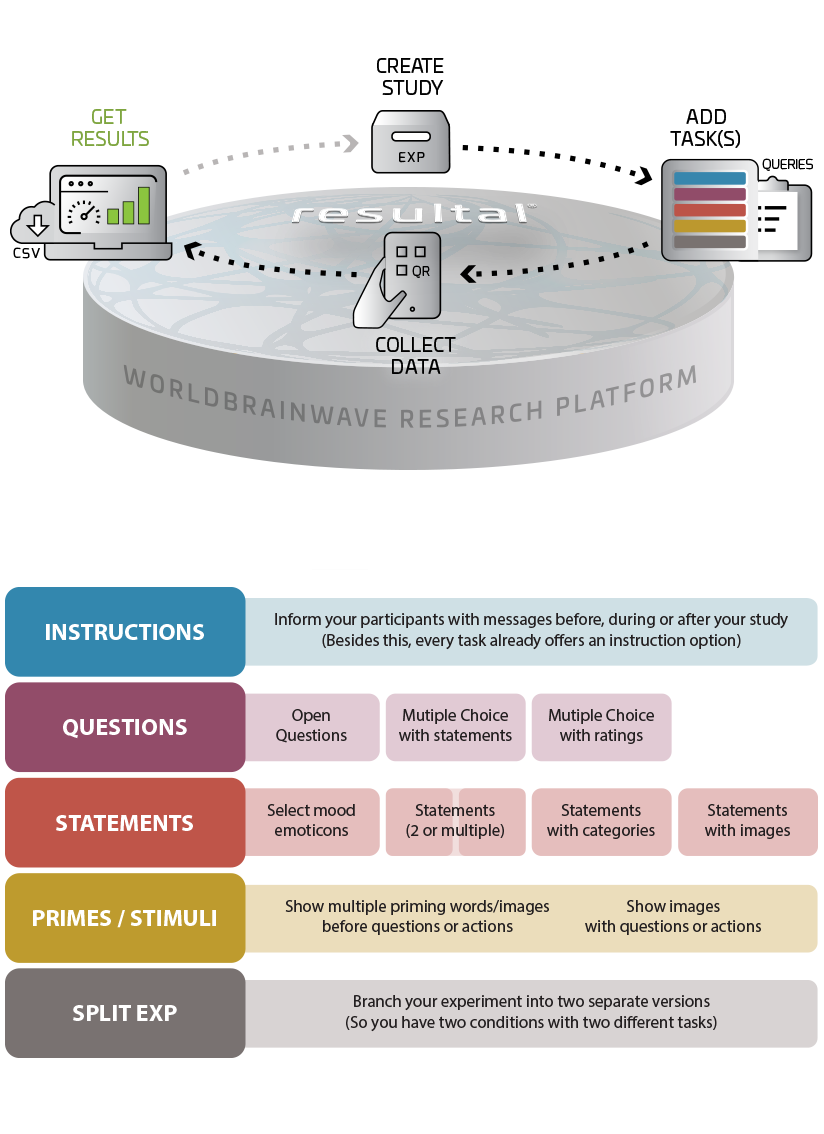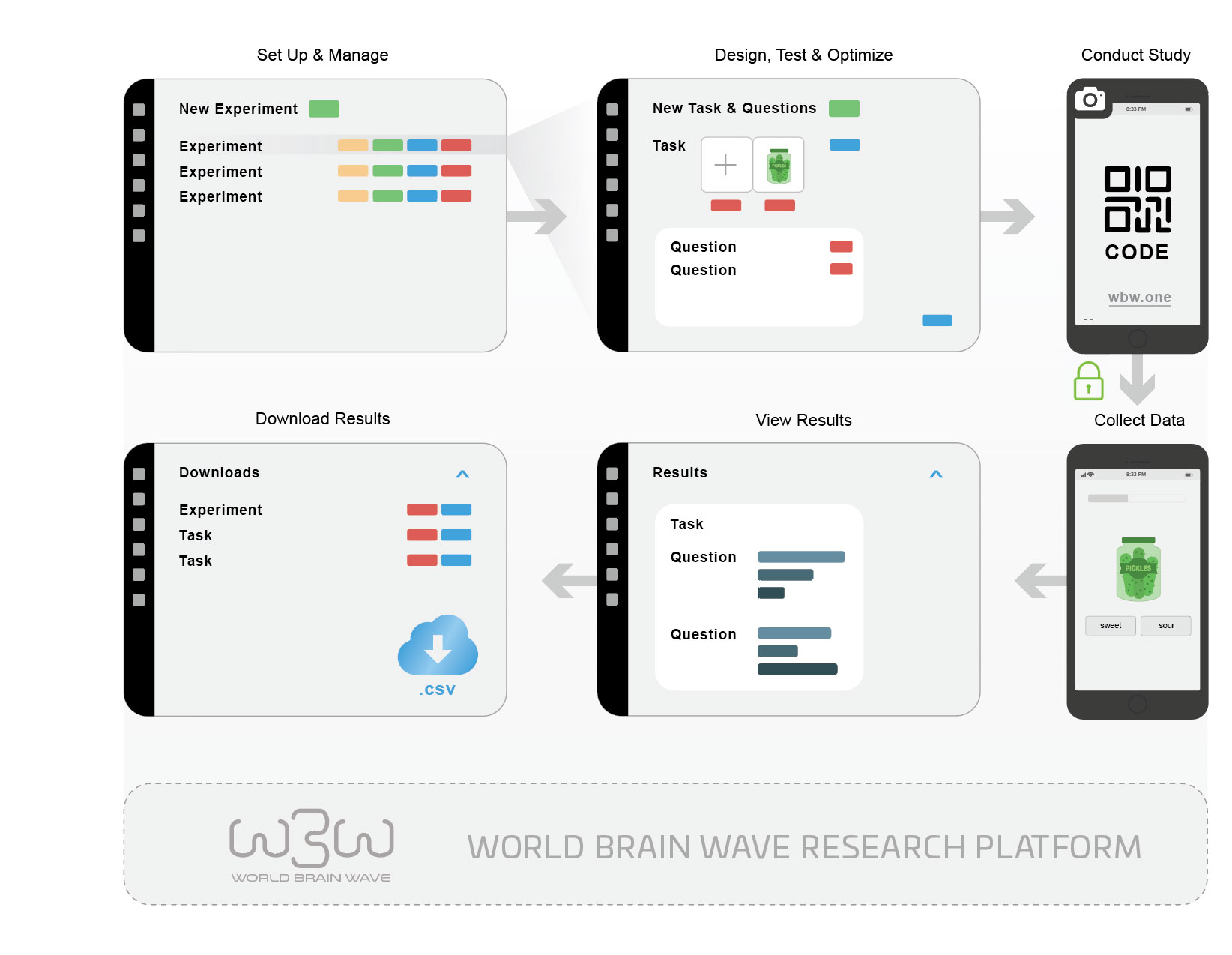 You Stay in Control
With Resultal you have full access and full control of your own data and results.You get access to all our tools for surveys and studies on location, online or in the lab. You also have a limitless amount of experiments and studies to create (fair use policy).
The platform is easy to use and offers everything you need for online research. View data results real time on your dashboard, or download data in .csv for further analysis. Start now and have your study up and running in no time!
GDPR Compliant
Trust, security and privacy are essential to Resultal.
Your data is safe with us. We don't sell your data to third parties. Resultal is fully compliant with EU privacy-laws. (End)users have access to their shared data.
We use protected data acquisition on SSL secure servers.
Read about our GDPR Compliancy
Main advantages
Safe to use. As participants use their own mobile phone, there is no direct contact with buttons
or other possible contaminated surfaces, which cannot be disinfected all the time.

Fast onboarding with unique QR-codes or short url+codes on location. Redirect to own web (reward) page at end of study.
View participant/study locations on the map. View participations in time line.

Only a cent per respondent. No limits on building experiments (fair use). A single user has 550 participant-uses for € 5,50.
Also for affliates we keep the costs as low as possible, without comprimizing on quality and security (GDPR compliant).

Set up studies and workflow in minutes. Easy-to-use interface (no coding needed). View results realtime in your dashboard.
All your research(data) convenient in one place, safely stored in the cloud. Work in teams with collaborative notes.
Use Resultal for quick and intuitive measurements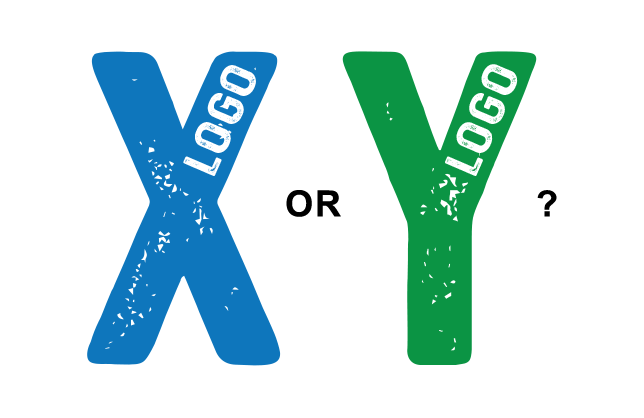 Measuring
Customer Experience & brand preference
Getting consumer feedback can be a daunting task;
research panels can be difficult to reach or can quickly become very expensive,
or are burdened by overly long surveys yielding less reliable answers.
Quickly assess brand associations and preference with Resultal.

Learn more in our tutorial blog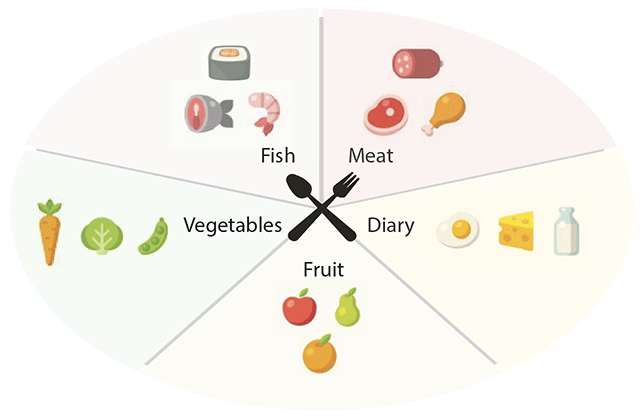 Discover
consumer preferences
Whether you sell insurance policies, magazines or daily lunches,
understanding your customers should be the number one priority for your business.
In this tutorial, we will show you (without long questionnaires) how to
quickly gain valuable insights in your consumer preferences.

Learn more in our tutorial blog
How it Works

Your research in one simple work flow.
Resultal works in all browsers on any mobile,
tablet or desktop (no app install).

Add tasks and questions to your study,
all developed for research on location,
online or in the lab.

With fast and easy on-boarding via QR-code
and short url wbw.one, everyone
can use this tool right away.

No extensive and reasoned typed answers,
but fast and intuitive 'click' responses
in real life action on location.
View Demo
Start Now
Your Research.
Simplified.
Your research in one simple work flow. All in one place. Resultal is reliable and easy-to-use, and works in any browser, on any mobile device.
Ask Your Questions.
Anywhere, Anytime.
Collect data with online surveys and experiments on the internet, mobile devices on location, or on tablet or PC in controlled (lab) settings.
Set Up Your Study.
In minutes.
Easily design & adjust your study, survey or experiment online, wherever you are. Use any task (many to choose from), without programming.
Get Your Results.
Quick and easy.
View results real-time in your dashboard, providing instant insights. Download statistical data in .csv for further analytics.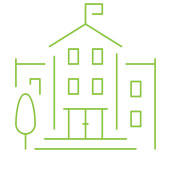 EDUCATION & PUBLIC USE
An affordable study tool for schools, groups, clubs, communities, universities, governments and organizations.
Our research platform offers easy-to-use survey tools with a minimum learning curve. The interface works intuitive and easy do discover using drag & drop. With efficient imports of example surveys and other studies you can have your study design up and running in minutes! Your data is automatically visualized on your dashboard, without the need for additional software or analysis!
For educational use.
Resultal is an affordable study tool to conduct your research with or enhance your lectures by activating students.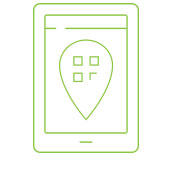 CUSTOMER EXPERIENCE
A location-based consumer insights tool for marketers, designers, consultants, businesses and events.
Resultal's browser-based research tools range from quick surveys to implicit association testing, allowing data collection where it matters: online and on the spot. With easy on-boarding on every smartphone or tablet through automatically generated QR-codes, you can gain important real-time customer insights and consumer satisfaction in the field.
A versatile tool.
Besides customer feedback, you can use it for psychological, sociological, economical or marketing studies (or any study you can imagine).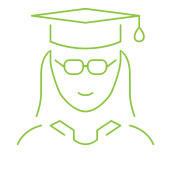 SCIENCE & INNOVATION
A validated scientific research tool for researchers, scientists, (PhD) students, developers and designers.
Resultal is a validated research tool, offering high accuracy and stimuli precision on location or in lab settings. It can be used for cognitive and behavioral research projects, such as priming or association tasks. The display times are accurate and the reaction times are captured automatically.
Valid Research.
For researchers, Resultal is a reliable data acquisition tool in the lab, or on every location with Internet. Furthermore, you can invite team members to directly share your results and discuss the data.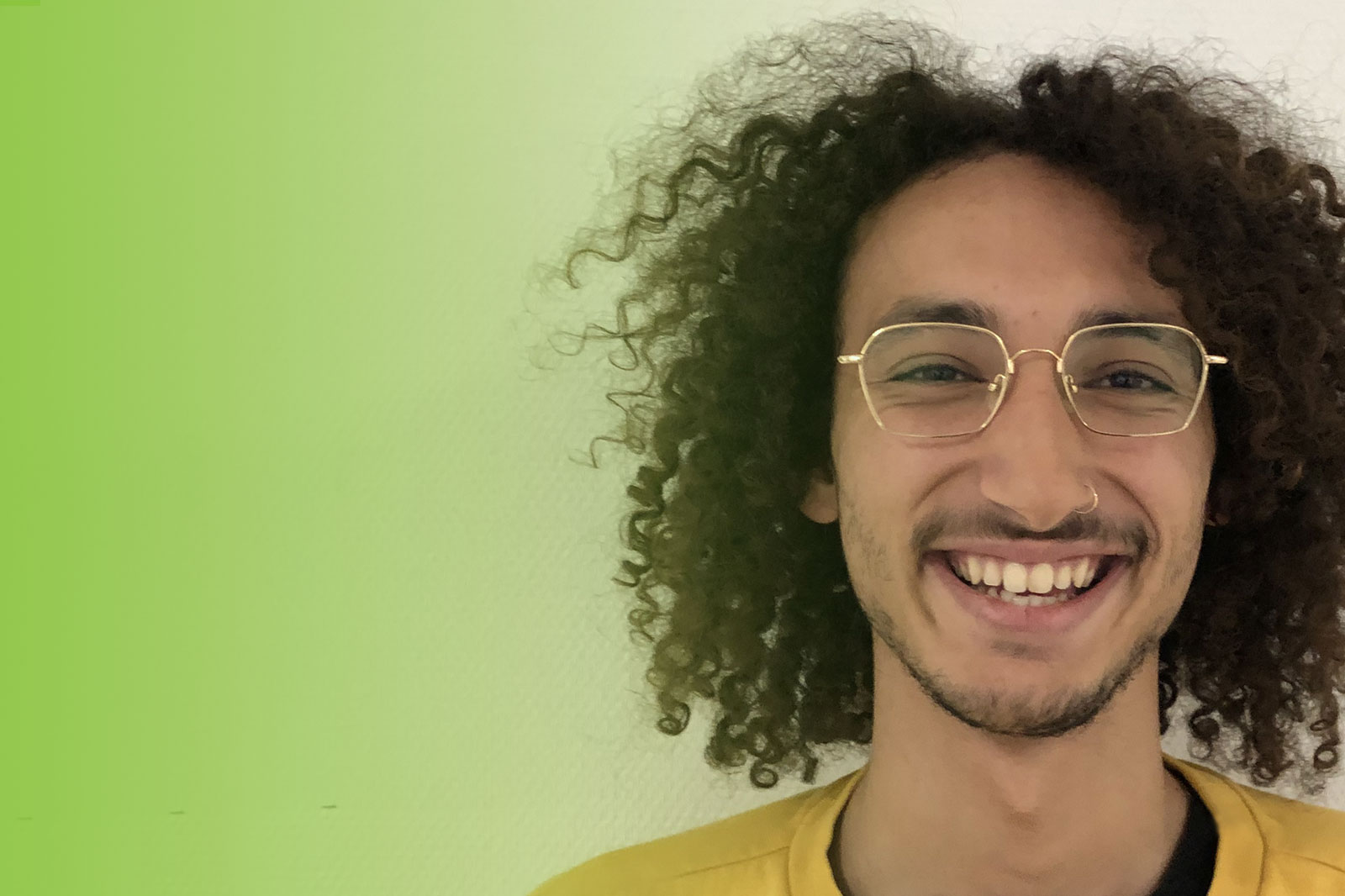 'Very intuitive, and
amazingly easy to use.
It makes research fun.'
Ali Erentok, Student Game Design